Apple Arcade: A New Life for the Premium App Market?
Apple Arcade – A new game subscription service
Apple recently introduced Apple Arcade, its Netflix-like monthly subscription service, to provide access to 100 premium games. Apple's goal is to provide a large, diverse app ecosystem operating on its platform. However, with the rise of free-to-play and free-to-win models, it has gotten harder and harder for premium developers to survive. Of course, there have been a few break-out hits such as Monument Valley and Florence. However, despite all the efforts from Apple and Google (trials, features, editorials), the premium market has declined from 6% in 2017 to only 4% of the overall game revenues in 2019 (App Annie). Out of the 1.8M apps App Annie tracks, only about 75K are premium. Capped LTV made it impossible for these games to compete against freemium titles. Apple wants this to change. We don't know how it will play out but there are a few interesting market dynamics which could take place. According to the Financial Times, Apple has decided to spend $500 million on more than 100 exclusive games. The strategy is to advance enough money to developers that will exceed the cost of development for a typical premium game. In turn, Apple expects to generate a multiple of that amount in annual revenues.
Source: HSBC estimate, FT
Consolidating the premium market
For the iOS ecosystem, top premium games get the red carpet distribution through Apple's Arcade. Focus on the top games, which should increase the overall quality of games but also put pressure on the longtail, developers who do not make it into Apple's program. It would accelerate the consolidation in this segment of the market. Taking it to the extreme, the premium market could totally be replaced by subscription models. On iOS, there is also the question if other premium/subscription apps could have enough oxygen to survive. With Apple's market power, it seems that they have the best chance to lock in top content and the majority of the market.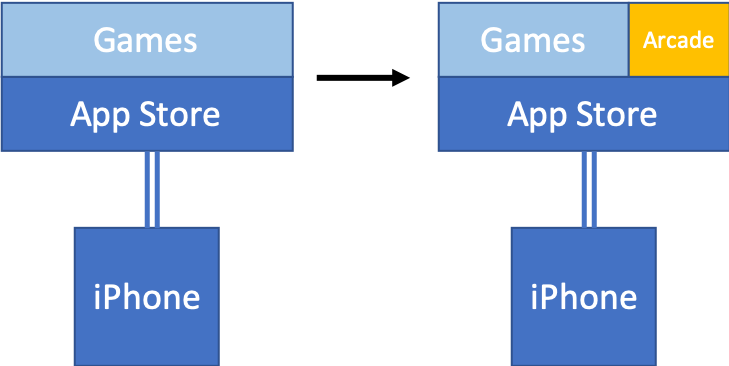 Apple's growth strategy
Apple Arcade helps Apple to execute on multiple strategic initiatives simultaneously: add another revenue stream, increase SOM (Serviceable Obtainable Market) of the premium game market, and protect its ecosystem from competing platforms.
The Arcade introduces a new revenue stream to capture more spend of iOS users. Together with Apple News+, a credit card, and Apple TV+, Apple's service business should offset slowing iPhone sales as smartphone ownership reaches near total penetration. Monetization per-user has been increasing steadily

from $58 per iPhone in 2017 to $79 in 2018, with $44 of that coming from games revenues in 2018

. If Apple can win the premium market, per-user monetization will continue to increase.

Apple could potentially grow the premium market by persuading the mass market to engage in games they normally wouldn't pursue. Further, it could also take some market share away from smaller, lower quality free-to-play titles.

With Arcade's

exclusive

games, Apple tries to compete against other, emerging gaming platforms from Google and Tencent, as well as the console makers

Nintendo

(

Switch

), Sony and

Microsoft

. Apple wants to avoid a) iOS users leaving for other platforms to consume premium content and b) other platforms allowing users to play high-end games on Apple's mobile devices without paying Apple.

Free-to-play is a winner takes all model and indies have been struggling to survive for years. As a consequence, more and more indie developers are leaving mobile and moving to Steam and, more recently, Epic's new store. Steam has now over

90 million monthly actives

. Apple wants to avoid losing diversity, so the Arcade with its funding system could persuade some to stay on iOS. It is Apple's attempt to re-balance the iOS ecosystem away from free-to-play games.
Android's premium market will follow
For Android, it looks a little bit different. Although there is a chance that top premium titles will exclusively sign up with Apple, there is more diversity in this ecosystem. Hatch (a subsidiary of Rovio) and others are in the process of launching their subscription services. With Apple trying to cut out a large part of this market (via exclusive content), other platforms are trying to establish their stakes in the subscription market. Sprint and Samsung, for example, announced to a partnership with Hatch on 5G cloud gaming. The Android market is much more dynamic with more platforms trying to gain market share. Becoming a leading subscription platform on Android can be lucrative.
How does Apple Arcade's subscription model impact premium app market?
Moving from premium to subscriptions could change the market for premium games forever. Apple's Arcade has the best chance to become the big winner. However, there is also room for other platforms, which will result in strong competition among these players to become the leading subscription and distribution platform for premium games. Top developers will enjoy special treatment from Apple and other platforms while benefiting from their strong distribution. However, there will be more pressure on the long-tail of premium developers. Consumers can expect better quality content, improved accessibility, and more attractive offers to engage with this kind of games. It has never been easier to play 100+ of games on a phone. And for those who think this is not enough, SNAP, Facebook, WeChat and other messenger platforms are working on their offers to increase optionality even further.