FAQs: Is Braavo right for you?
If you're building an app business, your time is valuable. To help you understand how Braavo could take your growth to the next level, we've outlined a quick overview of how we think and operate.
Will Braavo work for your mobile app?
What does Braavo look for in potential clients?
What are some of the clients Braavo has worked with?
Does Braavo focus on a geography?
How long do customers work with Braavo?
What makes Braavo different from other funding options?
Will Braavo work for my mobile app?
Every developer's situation is different, and we have account managers on hand to personally see to it that each client gets the customized support they need.
That said, the #1 question it comes down to is:
Have you launched your app and are you generating revenue?
If so, congratulations! If you're generating at least $5,000 per month, it's a good indicator that you're going in the right direction. Whether you're creating a game or a meditation app, your product is providing value that users want, need, and are willing to pay for.
Typically, our customers just need a little help getting to the next level. Around 90% of our clients are up-and-coming apps (62%) or are in the growth stage (28%). But we're not just for early-stage startups: around 1 in 10 clients have category-leading apps. In fact, in our best client success stories, we've helped turn up-and-comers into category leaders.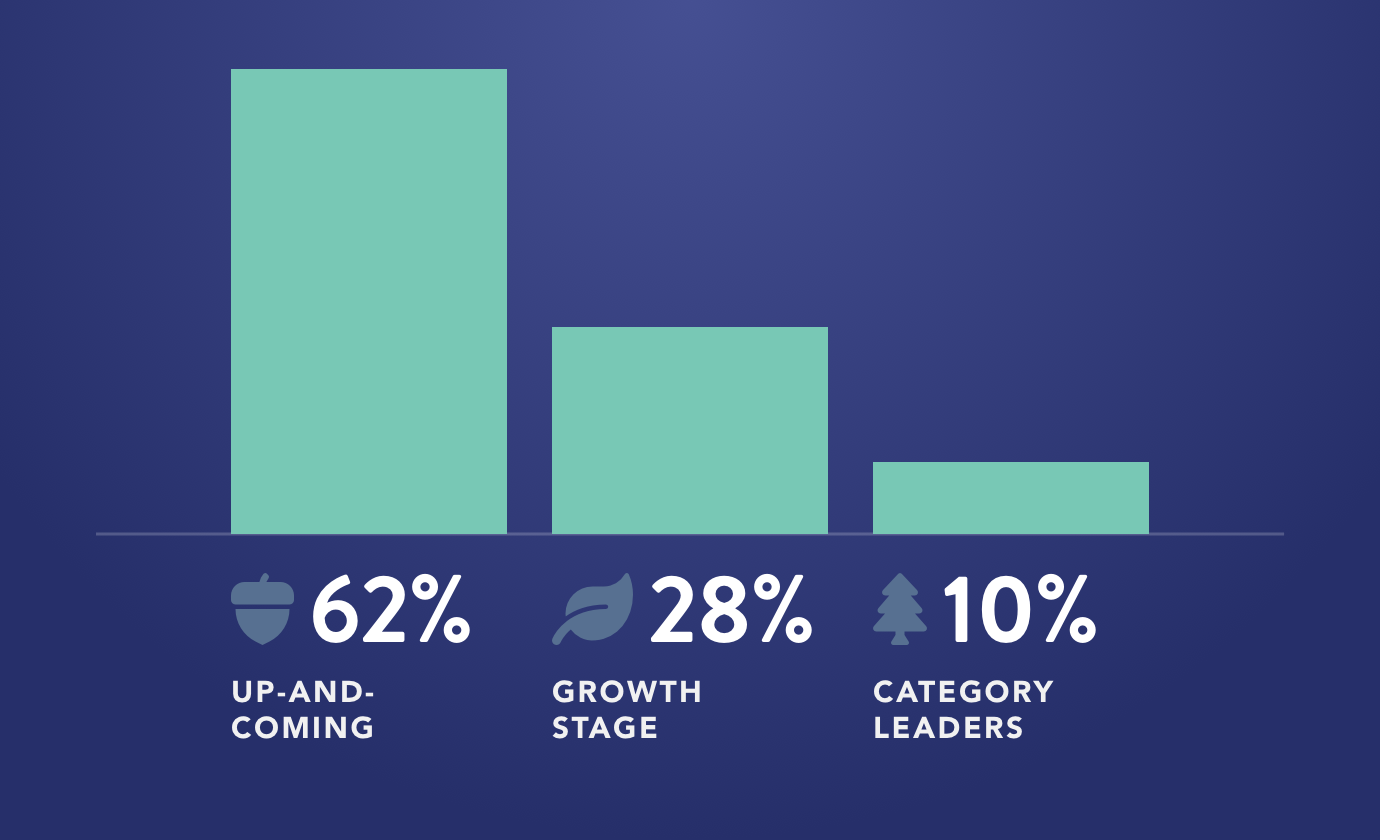 While we have succeeded with very early-stage apps, Braavo is a more valuable partner if you've already demonstrated predictable, repeatable value.
What does Braavo look for in a potential client/partner?
We're focused on mobile app businesses at every stage in the life cycle, and we work with long- and mid-tail customers.
We don't care about where you went to school or if you've raised money with top-tier investors.
That's not just about how we qualify funding eligibility – it's part of our company-building philosophy: 33% of Braavo's U.S. employees are immigrants, and we hadn't heard of most of their alma maters until we met them.
Additionally, 17.1% of our customers have female founders, accounting for more than 50% of the total funding we've provided all-time. In comparison, female-founded companies are severely underserved by VCs, landing only 2.2% of total VC funding in the US last year.
From our perspective, it doesn't matter where you came from – only what you can accomplish.
What are some of the clients Braavo has worked with?
Here are some examples of apps we've worked with at different stages:
Games:
Strategy:

Lemmings

brings the classic 90's puzzle game to mobile devices.

RPG: In

House Flip

, players renovate, design, and flip houses.

Word:

CodyCross

reinvents word games with thematic worlds.
Non-gaming:
Health & Fitness:

10% Happier

helps people improve their sleep, relationships, mindfulness, and more, with guided meditations, videos, and talks.

Education:

Blinkist

summarizes nonfiction books into bitesize text and audio pieces.

Dating:

Once Dating

sends users high quality matches daily.
Check out our case studies to read more examples.
Does Braavo focus on a geography?
We don't believe innovation has to come from one particular place.
We have customers located in over 20 different countries and we support payments in 5 currencies. (Dogecoin coming soon for Shiba Inu founders!) To better serve our customers, we have offices in the U.S. (NYC and SF) as well as in Europe (Barcelona and Minsk).
Our business model works whether you're a Silicon Valley startup or you're bootstrapping out of Berlin.
How long can I work with Braavo?
We'll work with you as long as it's working for you! Ultimately, our goal is to help our customers grow. Our customers can leave at any time because we don't require them to give us a chunk of their company or take money when they don't need it.
That said, our customers tend to stick around. Our first customer is also our longest-running client relationship, and has been with us for 1,300 days and counting.
As long as you qualify for financing, we're here to help you build a sustainable, growing business.
What makes Braavo different from other funding options?
There are two things that set Braavo apart:
We are the most technology-based solution on the market.

We offer flexibility, scalability, and innovation that other financing providers simply can't match. Our technology is customized to the underlying economics of our clients' apps. Clients can take advantage of Braavo's data-driven insights to determine the right next step.

We are uniquely focused on the mobile app industry, and we are solely dedicated to funding.

Non-dilutive funding (factoring and UA) is our focus, not a side initiative. We guarantee the ability to fund our app clients.