How Running for Weight Loss Became a Multimillion-Dollar App
In a little over a year, we grew revenue 50x and became a Top-100 grossing app in the US app store. We couldn't have done it without Braavo. – Natalia Bakhar, Co-Founder
The Challenge
Where's the money
?
Shortly after achieving positive ROI on user acquisition for subscription-based Running for Weight Loss, Verv Co-founder Natalia Bakhar became frustrated with the 30-60 day hold on payments from the app stores. She knew that for every dollar they earned, she should be reinvesting as much as possible – as quickly as possible – back into those profitable UA channels. In effect, the company was losing out on potential profit every day that their earnings were sitting in their iTunes account. Knowing that her team didn't want to raise equity, she tried applying for financing from banks and online lenders – but they simply did not understand the business. She was stuck.
One of the biggest challenges of running an app business is the app store payment policies. They can really cripple the growth of high-potential apps.
The Solution
Performance-based financing
Braavo Accelerate unlocks trapped revenue by accelerating a company's app store payments. Rather than waiting 60 days to get their money, Verv had access to their earnings on a weekly basis. As revenue grew each week, they immediately had more resources to iterate, optimize & grow.
Braavo Extend adds fuel to the fire by providing up-front UA funding for high-performing apps like Running for Weight Loss. While Natalia and her team optimized performance, Braavo's risk & revenue forecasting algorithms analyzed metrics across their app store, analytics, and advertising platforms to understand exactly how much capital the company needed to drive new growth. After several months of exceptional performance, Natalia had the confidence to take on additional capital and Braavo had the data to support it. When the time came to increase spend, Braavo provided the funds to triple their UA budget and unlock massive scale.
The Results
Capitalizing on performanc
e
In their first four months with Braavo, Verv revenue quadrupled, demonstrating the compounding effect of weekly revenue acceleration. In addition to increased UA budget, the accelerated cash flow stimulated growth across the organization—from product development to marketing partnerships.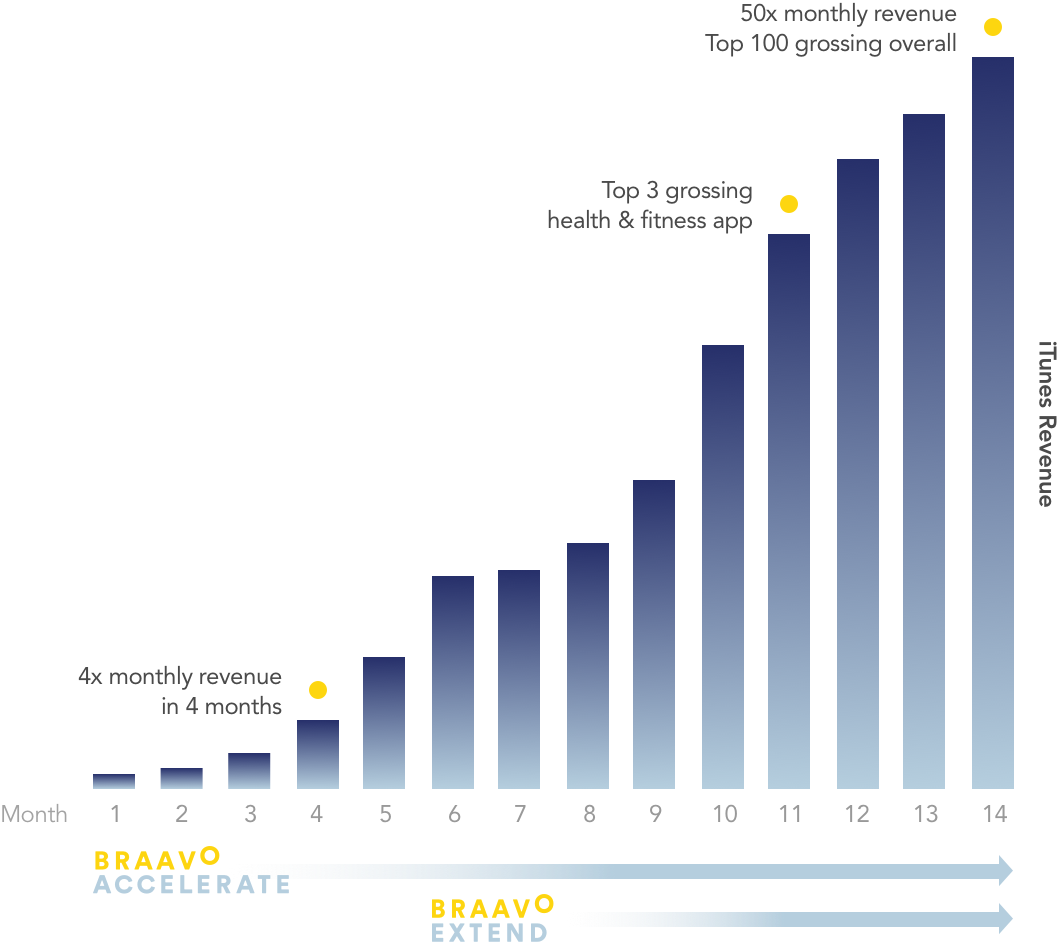 Over the course of the following year, pairing Braavo Accelerate with Braavo Extend helped Running for Weight Loss reach new heights, becoming a top 3 grossing health and fitness app and cracking the top 100 grossing apps overall in iTunes. Verv had achieved nolinear revenue growth of 50x in 14 months, all without taking any outside equity.
To replicate Verv's growth model for your own app, get started with an application for Braavo funding.