Pixite achieves 5x revenue growth in just 2 years…
With downloads declining and limited cash reserves, Pixite needed to scale user acquisition quickly — and continuously grow a loyal customer base — to stay in the game.
---
The story
Creative tools for when inspiration strikes
As the industry shifts toward consolidation, the App Store is now largely dominated by giants. For apps in the middle class, making a splash is difficult. Staying relevant among the masses is even harder. While app developer Pixite found success (and revenue) early on with gangbusters launches of its apps Web Albums and Tangent, as competition within the app economy increased, the game changed.
Hoping to replicate the revenue generation from their early victories, Pixite built another handful of apps. But with a one-time purchase model and no investment in advertising, the company was only making money when it was making new apps: the spike in downloads around each launch was followed by a slow and steady decline. If an app didn't have a strong showing right out of the gates, it became a loss for the company.
---
The Challenge
Show me the money
As downloads declined, Pixite's revenue began to plunge. While subscriptions from their adult coloring app Pigment were bringing in enough for the company to break even, the all too familiar spike-then-dwindle trend in downloads became cause for concern.
With no cash reserves to fall back on, Pixite was in a state of financial instability. Founders Eugene Kaneko and Scott Sykora knew they needed a new strategy to keep the company afloat. The plan was to invest in marketing, specifically on paid acquisition to grow the Pigment user base. But with revenue in a downward spiral, Pixite's team was strapped for funds. They needed capital to scale.
Being bootstrapped, we didn't have a whole lot of cash laying around to properly scale user acquisition. We ran different financial models using traditional debt financing and investment strategies, but we would need a substantial amount of money to reach our goals.
---
The Solution
Building a sustainable business model
In early 2016, Braavo's Co-founder reached out to Pixite with a solution: Braavo Accelerate. By providing early access to Pixite's existing App Store receivables, Braavo Accelerate would instantly provide the cash to jump-start their marketing efforts. Then, moving forward, they'd have the ability to continuously reinvest their weekly earnings back into growth – capitalizing on their new momentum with cash flow to do more faster.
With a clear path in mind, Eugene and his team set about preparing themselves to execute on the opportunity at hand. They optimized their campaigns, planned their strategy, and went live with Braavo a few months later. Taking advantage of the flexibility of Braavo's platform, they only accessed a small portion of their earnings at first – just enough to make sure their metrics remained strong as they ramped up. It was critical to Eugene that in using the Accelerate product, he'd see a positive ROI for his business.
Within a month, it was clear – the more they utilized the funding from Braavo, the faster they would grow, and they'd be doing it on their terms.
5x
Revenue growth in two years
---
The Result
Predictable growth at scale
With Braavo as a partner, between July 2016 and January 2018 Pixite achieved 5x revenue growth. With analytics for all of their apps and advertising platforms in one place and a consistent payment schedule, Pixite can easily track performance and make better decisions around when and where to invest new revenue.
Building a strategy for predictable growth has also enabled Pixite to allocate more funds across the organization – from hiring critical team members to improve their Android apps to closing valuable industry partnerships. Put simply, working with Braavo has enabled Pixite to build a larger, more sophisticated organization that is more profitable, defensible and sustainable business.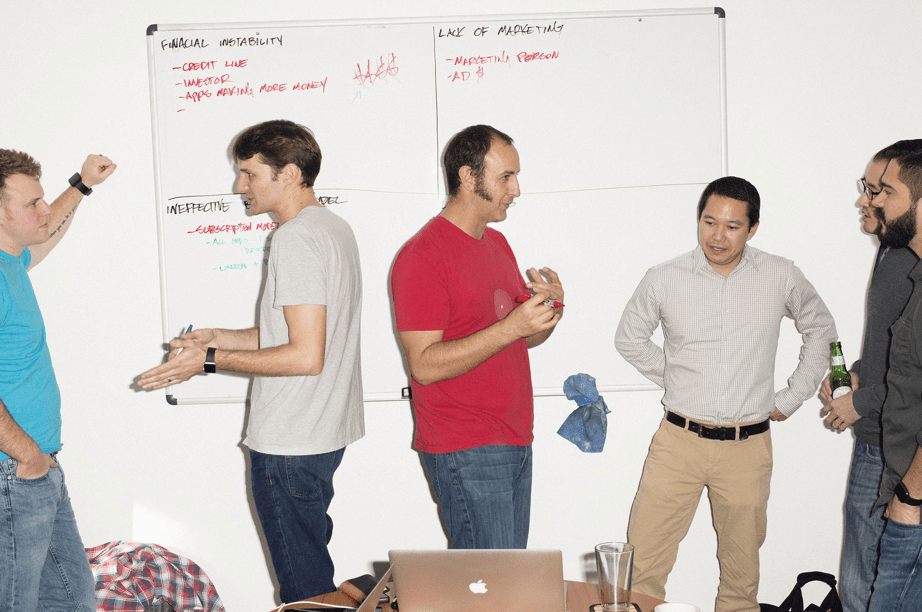 The Pixite team
Learn how Braavo can help your company supercharge its growth
Schedule a Demo