How Pixite Quadrupled App Revenue With Braavo
In 2016, Pixite held an offsite for its 6-person team that was notably more urgent than the year before. For Co-founder Eugene Kaneko and group, 2015 saw flattened downloads and plunging app revenue. Surprisingly for a tech company, though, the problem had nothing to do with product. In fact, Pixite enjoyed featured-status for multiple titles in the past, a recognition by Apple as a testament to the quality and appeal of their apps.
The decline was driven by a sea-change that publishers in all categories were feeling: the new reality of a maturing app economy. Pixite's precarious position was emblematic of a larger trend among app publishers; in fact, that Verge published an article about the company to highlight that very topic.
Little did they know that the outcome of their meeting that day – a new mission and a decision to double down on marketing – would transform a declining business into a rapidly growing one seemingly overnight.
How we got here
In 2011, consumers were hungry for new experiences to enjoy on their iPhones. The new form factor had users actively searching for and purchasing apps (63% of downloads were paid apps). This made for a profitable business model for app developers who were eagerly filling up categories with new titles.
Fast forward to 2014 and the ecosystem dynamics had changed significantly. As the stores became saturated (1.5 million apps for iOS, 1.6 for Android) and the appetite for novel experiences waned, consumers began to download fewer apps and use just a fragment of what they download (3 on average).
With the change in behavior, app developers looking to grow would need to adapt. While app store revenue has never been higher (Over $80 billion at last count), a few large players at the top have largely reaped the rewards of that growth.
To re-invigorate their business (and profitability), Pixite embraced a new acquisition strategy, doubling down on marketing and laying a blueprint for their subscription-based apps to achieve massive growth.
The new formula for success
With organic user acquisition in major decline, Pixite looked to paid acquisition to accelerate growth and build a sustainable business model for it's flagship app, Pigment. However, as Pixite co-founder Eugene Kaneko explains, implementing a paid UA strategy comes with a couple major challenges.
"Being bootstrapped, we didn't have a whole lot of cash laying around to properly scale user acquisition. We ran different financial models using traditional debt financing and investment strategies, but we would need a substantial amount of money to reach our goals."
Access to capital substantial enough to drive meaningful growth is hard to come by, unless you're one of the few who is successful in raising equity. But equity comes at a huge cost – months of distracting fundraising & due diligence, and ultimately giving away a big chunk of your company in the process.
Pixite didn't want to go that route. Instead, they connected with Braavo – a powerful new platform that offers automated financing for mobile apps. Braavo's Accelerate product provided Pixite unlimited growth potential, flexibility and complete control of the company with low risk.
Suddenly, Pixite didn't have to "punch above their weight" to compete with the giants at the top of the food chain who were reaping the benefits of the new app economy. Now they had rapid access to cash flow to scale their budget and a laser focus on ROI to keep their growth efficient.
Results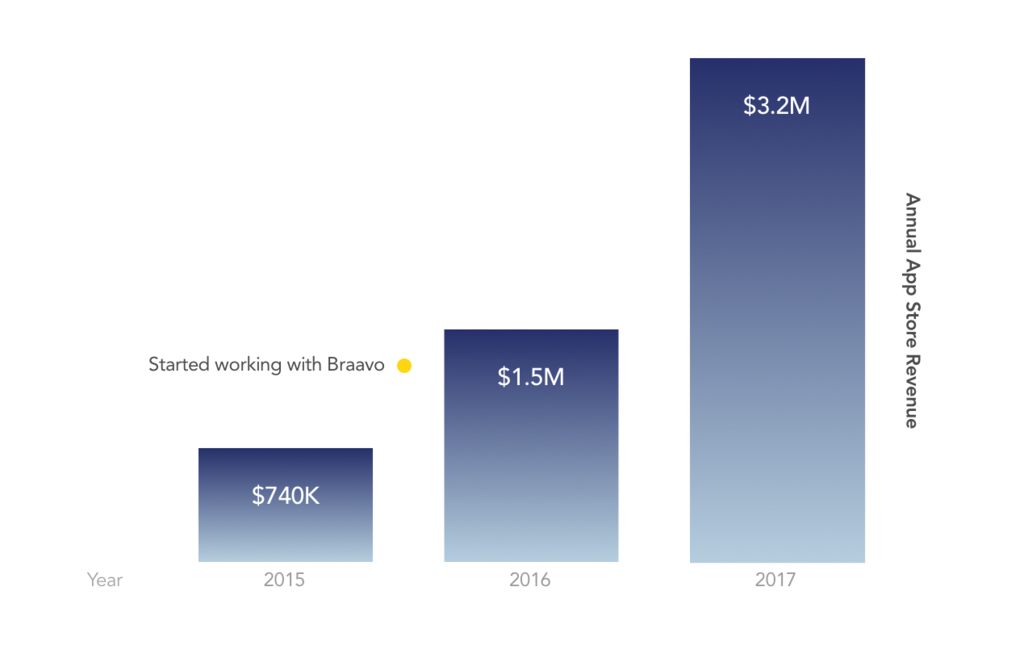 Since Pixite launched its new strategy with the help of Braavo, it has more than quadrupled revenue, increased profitability and has a clear path for sustainable growth moving forward. Furthermore, the company views Braavo as a strategic resource to propel growth moving forward and has set their sights even higher for the coming year. 
"Braavo affords us the supply of capital to achieve almost unlimited scale."
To replicate Pixite's growth model for your own app, get started with an application for Braavo funding that fits your business.