How Fanatee Achieved 5x Revenue Growth with Braavo
Background
There is no room for amateurs in today's mobile gaming ecosystem according to Cesar Mufarej, Co-Founder of Fanatee – a mobile game dev studio headquartered in São Paulo, Brazil. "You need to be very professional, driven and detail oriented in your product. After that, you will be competing with the biggest companies in the world for users – that's even harder."
Fanatee has a proven track record of punching above their weight and as co-founder, Cesar has fast emerged as leader in his category. With an eye toward innovation, Cesar and his team were early adopters in the gaming category to adopt a subscription-based monetization model with their feature game CodyCross, but have also utilized mobile ads and in-app purchases (IAP) to drive revenue growth.
"Different monetization strategies make sense for different businesses – if subscriptions make sense for a given app, the advantage is predictable LTV."
Recurring revenue from subscriptions doesn't just make it easier to calculate future cash flows. It also helps maximize LTVs, enabling smaller businesses to compete on UA more effectively against heavy hitters in the category.  Although the gaming space is large and growing, the category is experiencing a high rate of consolidation – which creates pressure on independent game studios to monetize and market their games extremely efficiently. As big budgets pour money into paid installs on Facebook and other proven UA channels, the auction dynamic of paid user acquisition can be painful if you're not able to find clever ways to level the playing field.
At the end of the day, indie game dev studios often end up with three options for fueling predictable growth:
Dedicate a percentage of revenue to paid UA and grow linearly
Invest in UA budgets to accelerate revenue at the expense of product innovation
Pursue funding options to grow the business
Challenge
In early 2017, Cesar was in the midst of this very dilemma. The Fanatee team was investing heavily in new products and at the same time knew they could scale CodyCross – a promising new title that showed major upside following a soft launch. Cesar knew he needed funding to grow CodyCross and was considering traditional loans after ruling out raising dilutive equity.
"Each type of funding has its place. Equity investment is a great option for when you want to create a new title or expand your team. But when you have predictable revenue and confidence you'll get the money from an investment back, other instruments make more sense."
Approach
That March, Cesar discovered Braavo – a platform that uses real-time data to provide mobile app and gaming companies with on-demand financing. To start, the company began with Braavo's Accelerate program – a service that provided weekly financing based on earnings reported in their app store and ad publisher accounts. Getting early access to their earnings enabled Fanatee to rapidly re-invest in profitable marketing channels and product optimization, leading to weekly increases in budget and overall performance. The strategy worked like a charm – within five months revenue had doubled and Cesar began to explore new ways to leverage the Braavo platform for additional growth.
In September, Fanatee saw the opportunity to capture seasonal demand, which was an excellent use case for Braavo's UA funding program, Braavo Extend. By simply linking his UA and attribution analytics accounts to the Braavo platform, Cesar was able to get qualified immediately for $150,000 in funding specifically for his successful marketing campaigns and an additional $100,000 to continue driving profitable growth soon after. The best part about the Extend program is that repayment is based entirely on future earnings, so Fanatee and Braavo have excellent alignment on what success has looked like for both sides.
Needless to say, with creative financing and a great team behind him, Cesar's moves worked. In less than a year, Fanatee has grown revenue over 5x without taking dilution or being saddled liquidity-eating debt.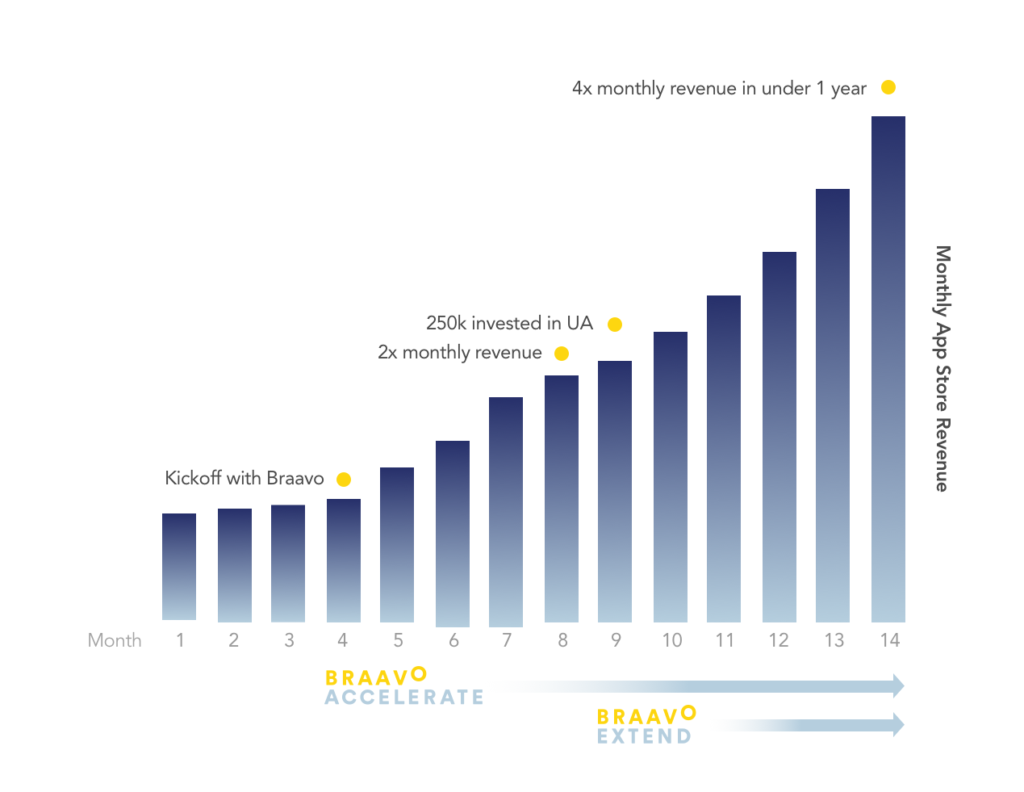 Why Braavo?
"Trust, agility & simplicity. We're dealing with a lot of money so our trust in Braavo has been crucial. Braavo doesn't require heavy compliance and paper work which is very important as well. Time is our most precious commodity and having access to capital if needed without requiring a lot of time is very valuable to us."
Since Fanatee's integration with Braavo, the team has harnessed it's recent growth to sharpen it's competitive edge. "We made important hires giving us new capabilities in production, art design and built out the content side of our business." An investment Cesar believes will pay off big in the near future, " The category is competitive, but it's really big and growing fast." With an ever-improving roster of titles and access to on-demand capital for rapid and efficient UA, you can expect to hear more about Fanatee in the future.
About Braavo
Braavo tracks and analyzes app performance to provide funding customized for your business. We integrate directly with the platforms you already use, providing insights to drive sustainable growth and the capital needed to make it happen.